Consultation Overview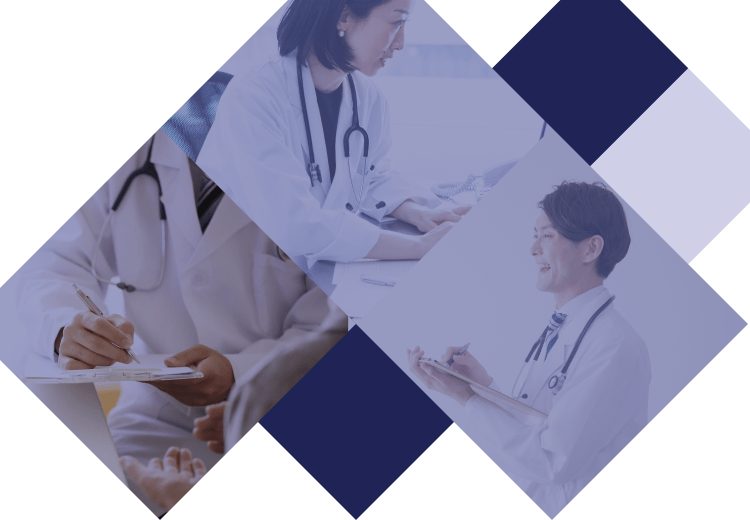 Coming For Your First Consultation
The clinic is dedicated to providing patients with the best treatment and as such, our doctors dedicate at least 30 minutes to plan a course of action for each patient.
For this reason, our clinic operates on a reservation-only basis, so kindly make an appointment before your visit.
Open
Reception / Consultation Hours
Reservations over the phone can be made during our reception hours.
The clinic is closed for medical treatments on Thursdays, Sundays, Japanese national holidays and New Year holidays.
Reservations
Mondays to Saturdays (including public holidays)
9:00~17:00
Consultations & Treatments

Mon
Tue
Wed
Thu
Fri
Sat
Sun
PH
●
●
●
×
●
●
×
×
9:00~17:00
The clinic is reservation-only. For consultations, examinations, diagnoses, and treatments, kindly make an appointment with us.
Conditions and Symptoms We Treat
Conditions / Spinal Diseases

Lumbar Disc Herniation
Intervertebral Disc Degeneration
Spinal Stenosis
Spondylolisthesis
Spondylolysis / Spondylolytic Spondylolisthesis
Sciatica
Lumbar Osteoarthritis
Lumbar Instability
Degenerative Lumbar Scoliosis
Facet Joint Disease
Myofascial Low Back Pain
Sacroiliac Joint Disease
Lumbar Compression Fracture
Intermittent Claudication

Physical Symptoms

Collapsed disc
Disc appears black on the MRI
Disc has been depleted of its moisture
Deformed spine
Pain in lower back and/or buttocks
Pain in leg(s)
Numbness in lower back and/or buttocks, pain caused by numbness
Numbness in leg(s), pain caused by numbness
Pain and numbeness in only one leg
Unable to stand for a long time because of the pain
Unable to remain seated for a long time because of the pain
Unable to walk for long distances
*We will provide treatment only if we determine that our treatment is appropriate for these diseases and symptoms after a thorough medical examination.
Facilities at Our Clinic
Angiography Device

An angiography machine can check blood vessels, and is used to perform each of our treatments (Cellgel method, Hybrid Laser method, PODD method, and PLDD method) by viewing the patient's body in real time through a fluoroscope and checking every detail on a monitor. Our clinic has brought in the latest model from the largest manufacturer in Japan.

Radiography Device (X-ray)

The X-ray is used mainly to check the condition of the bones of the patient's back to hips. Meanwhile, we ask our affiliated clinic to perform MRI examinations. MRI is ideal for checking the condition of cartilage areas such as intervertebral discs and joints, as well as non-bone areas such as ligaments and nerves. By using X-rays for bones and MRI for other parts of the body, it is possible to make an accurate, thorough diagnosis.
Flow
Treatment Process For Overseas Patients
1. Inquiry

Our clinic is by appointment only, so be sure to make an appointment before visiting us.

*For those who wish to make an appointment on the day of, kindly contact us by phone.

2. Remote MRI Diagnosis

For us to determine the most suitable treatment prior to your visit to Japan, you can forward us a recent MRI (within 3 months) for our doctor to review and determine free of charge. If you're located nearby, you may also request for an MRI to be taken at our affiliated clinic.

3. Choose Treatment Date

If the diagnosis confirms that you're a suitable candidate for our treatments, you may proceed to make an appointment with us. Kindly keep in mind the time it may take for you to secure a visa to enter Japan. A Japanese tourist visa is sufficient.

4. Travel Arrangements

As we are an outpatient facility, you will be discharged on the same day as your treatment. Patients are asked to take care of their own visas, travel and accommodation arrangements.

5. Pre-treatment Examination

Please bring your health insurance card, medical certificates, MRI image data, etc. to the reception desk. After the medical examination, an X-ray will be taken. This procedure should be take approximately 5 minutes. The doctor will then dedicate about 30 minutes to explain the best treatment course and to answer any concerns.

6. Treatment

Patients who wish to be treated on the same day can choose to be treated in the afternoon after the examination in the morning. Treatment time varies from 15 to 45 minutes (per site) after local anesthesia is administered.

7. Discharge

After the treatment, we provide a recovery room for you to rest for about an hour to 1.5 hours.

You are free to return home after the doctor examines you.

8. Follow-up

We will contact you regularly for follow-ups after your treatment.

If you have any questions, please feel free to contact us.
FAQ
Frequently Asked Questions
Q

What do I need to bring on my first visit?

A

Please bring your national health insurance card. If you are referred from another hospital, please bring the medical information form (letter of introduction) and diagnostic images. We will inform you of the MRI images necessary for diagnosis at our hospital when you make an appointment.
Q

Do you accept credit cards?

A

Yes, the credit cards accepted are VISA and MasterCard.
Q

Do I need a reservation?

A

Yes, our clinic is by appointment only - kindly call or use the contact form to make a reservation.
Q

Can I just walk in to the clinic for a consultation?

A

We are unfortunately unable to see patients even if they walk in, as we are by appointment only.
Please feel free to call us or use the contact form for an appointment.
Q

I need to change or cancel my reservation.

A

Kindly contact us at least one day before the reservation.
Q

Is there a car park?

A

Yes, it is located in the basement of the building our clinic is in.

For more information, please visit the

access page

.
Q

Is your clinic barrier-free and/or wheelchair accessible?

A

Yes, we are barrier-free and wheelchair-accessible.
Q

Is it possible to get both the MRI and the treatment in the same day?

A

Depending on the type of treatment and appointment, there are times where it is possible to finish on the same day and times where we may ask to take the MRI on a different day, so please discuss this with our staff when making your reservation.
Q

Is it possible to pay with multiple credit cards?

A

Yes, it is possible to pay for your treatment with multiple credit cards. In addition, it is also possible to pay with a mixture of cash and credit cards.
Q

What should I wear on the day of my treatment?

A

You can wear your regular clothing. Our clinic will prepare a gown for you, so it is better to wear something that is easy to remove/wear.
Q

Is there a limitation on what I can eat before the treatment or on the day of?

A

There are no limitations on what eating on the day before. On the day of, it may be better to hold off on eating breakfast due to the fact that you will lay on your stomach for both the consultation and for the treatment itself. For those with appointments in the afternoon, you may want to hold off on eating lunch.
Q

Is a recommendation from my regular doctor required?

A

You do not need a recommendation letter from your doctor in order to have a consultation or treatment.
If you do have a recommedation letter, we will be glad to check it.
Q

Is it possible to receive the cellgel treatment while having treatment for other illnesses?

A

It depends on what type of illness and what type of treatment you are currently receiving, so please ask us when reserving.
Q

Is this treatment covered under the Advanced Medical Care?

A

Our treatment does not apply to Advanced Medical Care registered with the Ministry of Health, Labour and Welfare.
Q

I have a pacemaker, am I eligible for the treatment?

A

Yes, it is possible. However, an MRI image is required for the examination, and since MRI imaging with a pacemaker cannot be performed at the facility with which our hospital is affiliated, please consult with your doctor at the medical institution where the pacemaker was installed.
Q

Is it possible to stay overnight at the clinic?

A

No, it is not. All of our treatments are outpatient treatments.