The Cellgel Method
Having been adopted in over 54 countries globally,
the "Cellgel Method" for treating lower back pain
is now available in Japan
For those who have been told it was impossible to operate,
For those who have had recurrence of pain post-surgery,
A low-risk, outpatient treatment is now an option for you.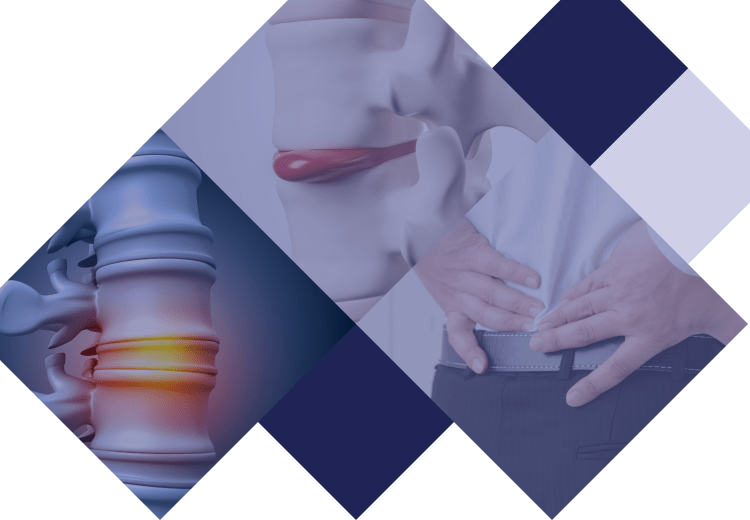 What is the Cellgel method?
An intervertebral disc-repairing impant gel treatment
The Cellgel method is an advanced treatment for low back pain that has been implemented in more than 54 countries worldwide, predominantly in Europe.
As with other treatments, it does not decrease the disc volume, and since the drug remains in the disc as a gel-like implant after treatment, the disc can be preserved. Recent studies have also shown that the volume of the disc increases after treatment.*1
It is also thought that by repairing the disc and preventing leakage of the Nucleus Pulposus, the disc itself will restore its normal function with its own regenerative ability (*2).
It is particularly recommended for patients who are concerned about the risk of conventional disc surgery (MED, PELD, etc.).
*1 Source: European Journal of Radiology 109 (2018) 101–107 , Efficiency of an ethyl alcohol gel in symptomatic disc hernation
*2 Source: International Journal of Spine Surgery Vol. 15 Appendix 1 from regenerative treatment of disc degeneration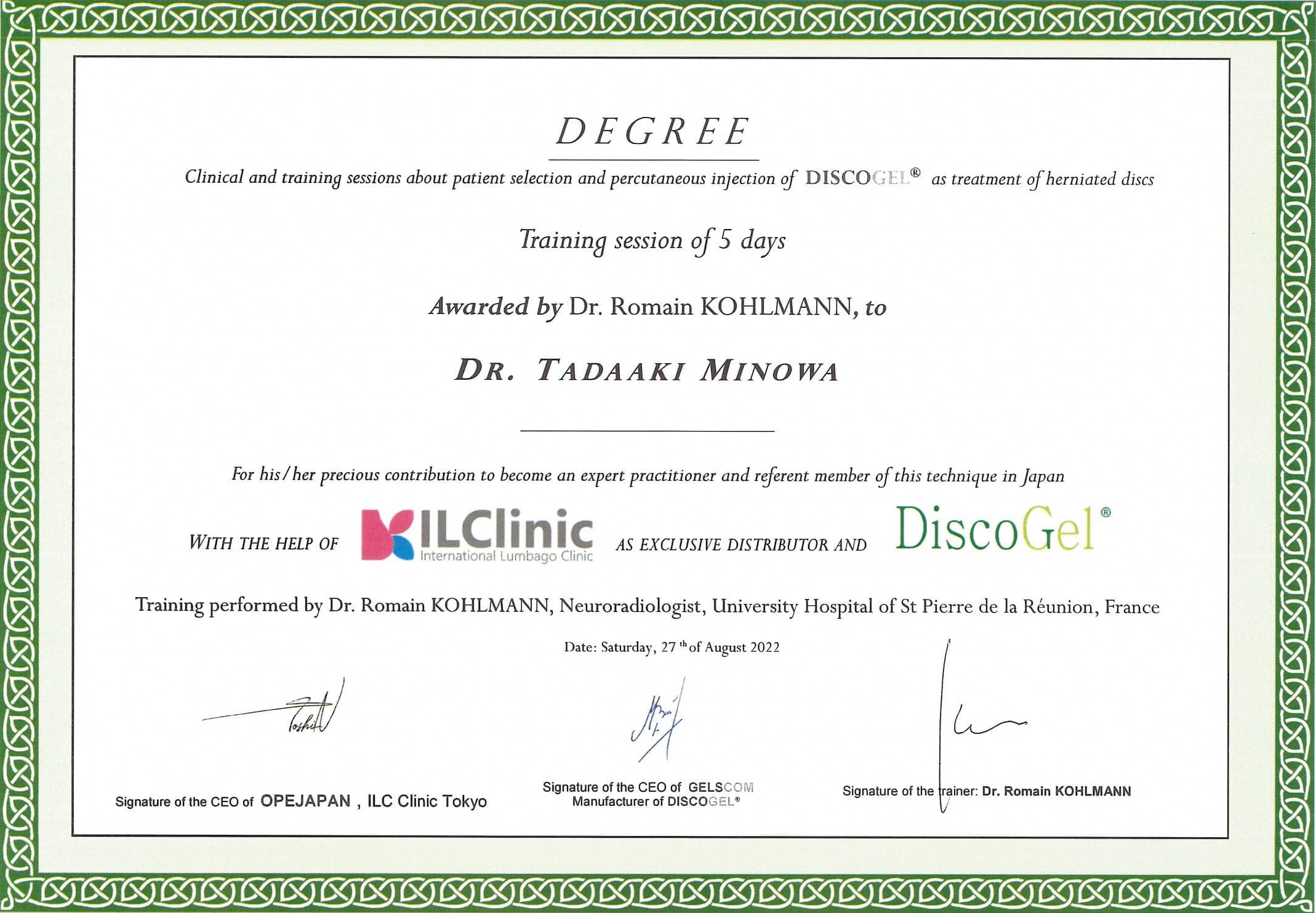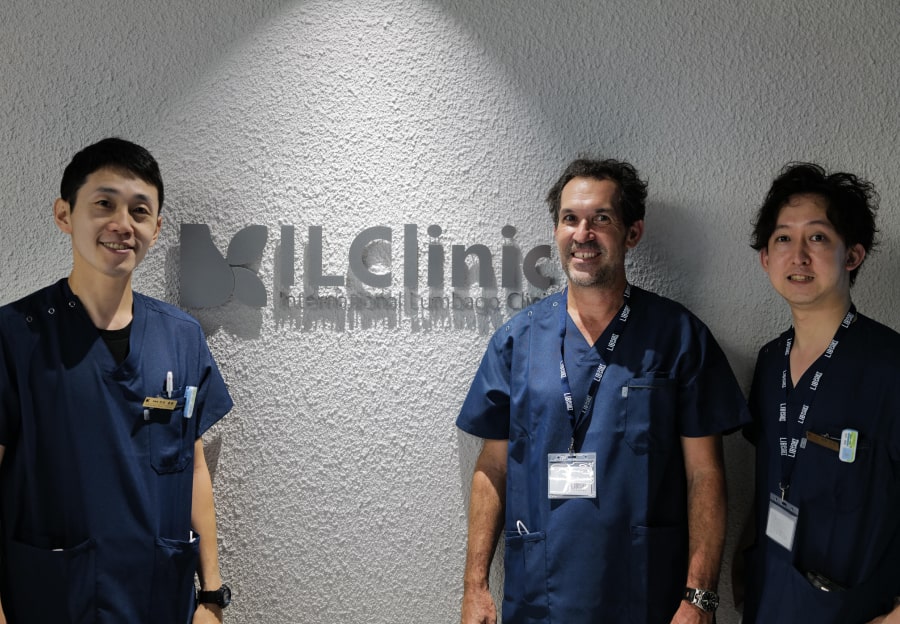 Features of Cellgel
Possibility to repair intervertebral discs where unable to using surgical or laser treatment
As the disc is repaired, the disc itself regains its original normal function through its own regenerative ability
The Cellgel method uses local anesthesia over general anesthesia used in conventional surgery, making it less burdensome on the body
Treatment is done with a thin needle, so the wound is minimal and recovery is rapid
Treatment is very short, allowing for outpatient day treatment
Safe, modern treatment proven in more than 54 countries around the world
Research and studies on Cellgel
Universities and hospitals around the world have published results on the treatment of the Cellgel method. The following are some highlights of the studies.
The figures below are cited directly from the figures in the studies; as described, this is a treatment that has been validated for its high rates of effectiveness.
The efficacy is the percentage of improvement in pain assessment scales such as VAS (Visual Analogue Scale) compared to before and after treatment.
Swipe for more
Treatment with Cellgel
After injecting local anesthesia, a 0.8 mm needle is inserted in the disc using a fluoroscopy device, injecting the treatment into the lumbar spine. Notably in prolapsed hernias, the more the gel permeates, the more effective the treatment is.
The treatment will not leave any visible scars on the body as only a thin needle is used. Moreover, as local anesthesia is used over general anesthesia, it puts less stress on the body, and patients can go home immediately after resting for an hour post-treatment.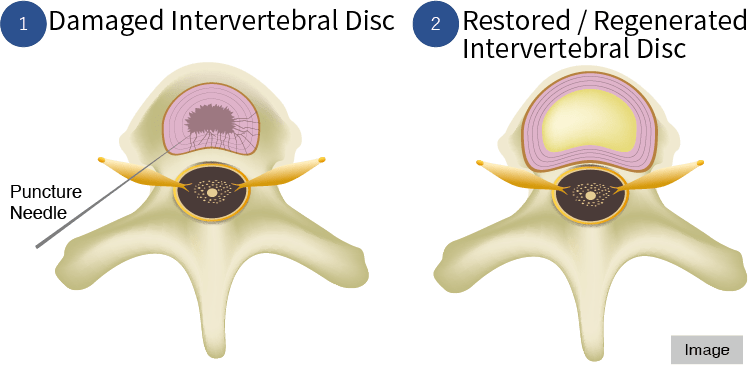 [During Treatment]
Fluoroscopic image view from the back
[During Treatment]
Fluoroscopic image view from the side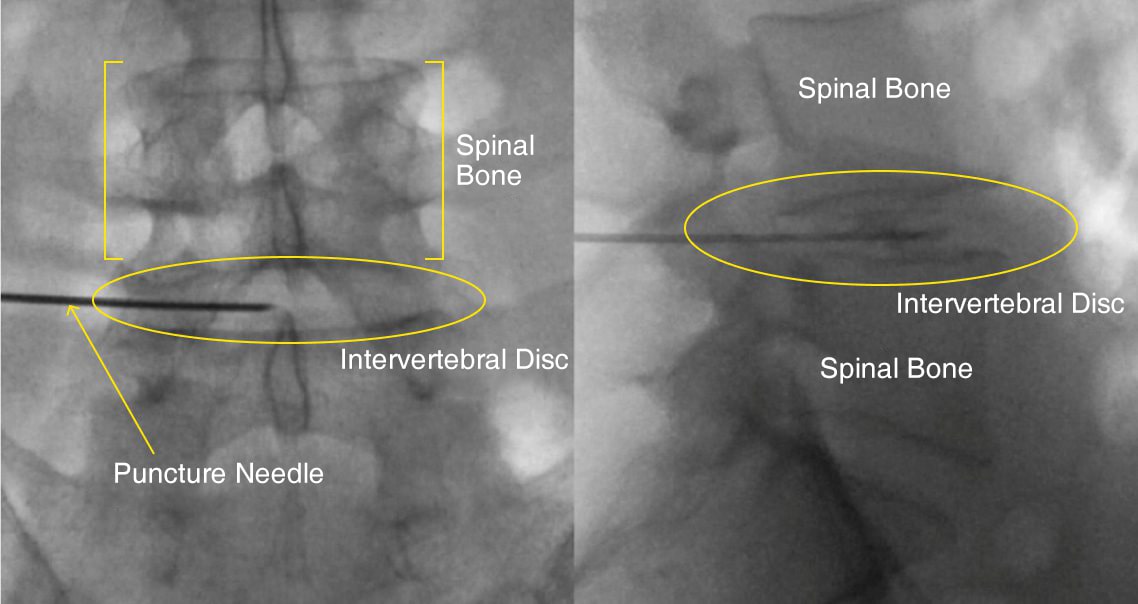 [After Treatment]
Fluoroscopic image view from the side
[After Treatment]
Fluoroscopic image view from the back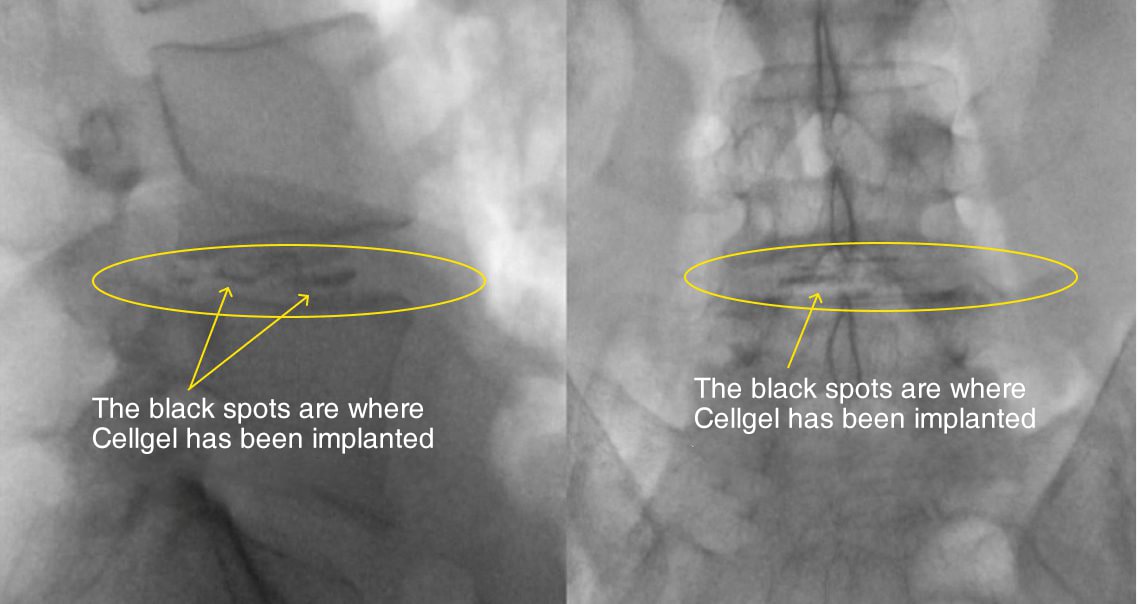 Conditions and Symptoms We Treat
Conditions / Spinal Diseases

Disc Herniation
Intervertebral Disc Degeneration
Spinal Stenosis
Spondylolisthesis
Spondylolysis / Spondylolytic Spondylolisthesis
Sciatica
Lumbar Osteoarthritis
Lumbar Instability
Degenerative Lumbar Scoliosis
Facet Joint Disease
Myofascial Low Back Pain
Sacroiliac Joint Disease
Lumbar Compression Fracture
Intermittent Claudication

Physical Symptoms

Collapsed disc
Disc appears black on the MRI
Disc has been depleted of its moisture
Deformed spine
Pain in lower back and/or buttocks
Pain in leg(s)
Numbness in lower back and/or buttocks, pain caused by numbness
Numbness in leg(s), pain caused by numbness
Pain and numbeness in only one leg
Unable to stand for a long time because of the pain
Unable to remain seated for a long time because of the pain
Unable to walk for long distances
*We will provide treatment only if we determine that our treatment is appropriate for these diseases and symptoms after a thorough medical examination.
For those with these concerns...
1

I've had chronic back pain for a long time, the pain and numbness have only gotten worse

2

Surgery for back pain (MED, spinal fusion, anaplasty, etc.) has been recommended before

3

I don't want to be hospitalized, I'm afraid of surgery

4

Past surgery did not improve my back pain (recurrence)

5

I have a busy schedule, I want a treatment that can be done in a day

6

I want a treatment that's less burdensome on the body
Elderly people (over 80 years old) are also eligible for this treatment
Merits of Cellgel
Disc buffering (cushioning) Improved functionality

As Cellgel remains as an implant in the disc, it also provides a cushioning function for the intervertebral disc.

Lowered stress on the body Outpatient treatment

Treatment time is about 30 to 40 minutes, and patients are required to rest for about 60 minutes after treatment. One can return home after about 90 minutes from the start of the treatment.

A new alternative to laser, ozone, and surgical treatment

The Cellgel method is suitable even in cases where laser or surgery has proven to be ineffective.
Treatment time and side effects
Treatment Time

About 30-40 minutes
You will need to rest for about 60 minutes after treatment and you can go home after about 90 minutes. Light movement is possible from the next day onwards, but sports and strenuous activties must be put on hold for about a month.
Potential Drawbacks

Symptoms may temporarily worsen for 1-2 weeks after treatment. This may be due to the decompression effect of the implant, which pulls in the surrounding tissues. In addition, if the disc is worn out and almost completely gone, treatment may not be possible. At the time of your visit, your doctor will have consultation to select the appropriate treatment method for your condition.

Potential Side Effects

Transient pain may occur after the treatment. There are no reports of any neurological damage either in our own tests or studies. However, there is a very small possibility of an allergic reaction due to the local anesthetic.
Flow
The Cellgel Treatment Process
1. Inquiry

Our clinic is by appointment only, so be sure to make an appointment before visiting us.

*For those who wish to make an appointment on the day of, kindly contact us by phone.

2. Remote MRI Diagnosis

For us to determine the most suitable treatment prior to your visit to Japan, you can forward us a recent MRI (within 3 months) for our doctor to review and determine free of charge. If you're located nearby, you may also request for an MRI to be taken at our affiliated clinic.

3. Choose Treatment Date

If the diagnosis confirms that you're a suitable candidate for our treatments, you may proceed to make an appointment with us. Kindly keep in mind the time it may take for you to secure a visa to enter Japan. A Japanese tourist visa is sufficient.

4. Travel Arrangements

As we are an outpatient facility, you will be discharged on the same day as your treatment. Patients are asked to take care of their own visas, travel and accommodation arrangements.

5. Pre-treatment Examination

Please bring your health insurance card, medical certificates, MRI image data, etc. to the reception desk. After the medical examination, an X-ray will be taken. This procedure should be take approximately 5 minutes. The doctor will then dedicate about 30 minutes to explain the best treatment course and to answer any concerns.

6. Treatment

Patients who wish to be treated on the same day can choose to be treated in the afternoon after the examination in the morning. Treatment time varies from 15 to 45 minutes (per site) after local anesthesia is administered.

7. Discharge

After the treatment, we provide a recovery room for you to rest for about an hour to 1.5 hours.

You are free to return home after the doctor examines you.

8. Follow-up

We will contact you regularly for follow-ups after your treatment.

If you have any questions, please feel free to contact us.
Price

Cost of Treatment for the Cellgel Method
Number of
Discs Treated
1 disc
2 discs
3 discs
4 discs
5 discs
Treatment Cost
1,420,000 JPY
1,530,000 JPY
1,640,000 JPY
1,750,000 JPY
1,860,000 JPY
Swipe left/righ
*The prices listed are inclusive of tax.
*All medical and diagnostic costs, including MRI and other tests, as well as medical translation and interpretation fees, are all included in the treatment costs listed above.
*The treatment is not covered by the Japanese health insurance, one must privately bear the entire cost of the treatment.
*Payment by credit card (Visa, MasterCard, UnionPay) is accepted for the treatment costs only.
*You can receive a tax refund by filing a tax return for medical expenses.
Other Treatment Methods
Hybrid Laser Method

This is a minimally invasive treatment for disc herniation that combines the benefits of both laser therapy (PLDD) and ozone therapy (PODD).

PODD Method

(Percutaneous Ozone Disc Decompression)

Percutaneous Ozone Disc Decompression (PODD) has been performed mainly in Europe since the 1990s. It can be applied to facet joint disease, disc herniation, spinal canal stenosis, etc.

PLDD Method
(Percutaneous Laser Disc Decompression)

Percutaneous Laser Disc Decompression (PLDD) has been has been the major outpatient disc laser procedure in Japan since the 1980s. It is the primary treatment of choice for herniated discs.
Our Treatment Methods versus Conventional Surgical Procedures
ILC Treatment Methods
Conventional Surgery
Cellgel
Hybrid Laser
PODD
PLDD
Micro Endoscopic
Discectomy (MED)
Spinal Stabilization
Vertebroplasty
Disc Restoration
○
×
×
×
×
×
Post-treatment Change
in Disc Volume
Same to increased
Slight to small decrease
Slight decrease
Small decrease
Decreased or disappeared
Decreased or disappeared
Supressing of
Inflammation
○
○
○
×
×
×
Duration of
Treatment
15 to 20 mins
(per site)
20 to 25 mins
(per site)
10 to 15 mins
(per site)
10 to 15 mins
(per site)
40 to 60 mins
60 to 90 mins
Period of
Hospitalization
N/A
(outpatient)
N/A
(outpatient)
N/A
(outpatient)
N/A
(outpatient)
About 1 week
About 1 month
Japanese Health
Insurance Coverage
×
×
×
×
○
○
Treatable Symptoms &
Conditions
Most lower back related conditions and symptoms
Disc herniation
Most lower back related conditions and symptoms
Disc herniation
Disc herniation, spinal tumor etc.
Spinal stenosis, spondylolisthesis, scoliosis, lumbar instability, disc herniation, compression fracture
Swipe left/righ
FAQ
Questions About Cellgel
Q

What's the difference in the reccurence rate between Cellgel and conventional surgery?

A

Surgical procedures, which began in the 1960s, aimed to remove and sometimes fix deformed bones and herniated tissue. However, new bone damage caused by screws and the lack of fundamental treatment (repair of the intervertebral disc annulus fibrosus) resulted in the appearance of additional back pain and recurrence rates.

Therefore, in the 1980s, the need for fundamental treatment increased, and the intervertebral disc treatment (Cellgel) that we provide at our clinic began. Cellgel, in particular, have been proven to repair and regenerate the intervertebral disc, resulting in not only improvement of symptoms, but also an extremely low recurrence rate.
Q

How is the number of sites or disc to be treated determined?

A

The doctor will spend about 30 minutes with the patient while looking at the MRI and X-ray images to determine the cause of the condition, determine the treatment area, and explain the corresponding treatment method to the patient. MRI images show the main factors that contribute to back pain (disc, nerve, ligament, and joint), such as changes in shape, pressure on the nerve, presence or absence of damage, and inflammation. The x-ray image mainly confirms the condition of the bones.
Q

Why is the Cellgel method applicable to cases where previous surgical surgery showed no improvement?

A

During surgery for disc herniation, the prolapsed herniation is removed, but the damaged disc remains intact. As a result, fresh nucleus pulposus components leak from the damaged disc and inflammation persists. On the other hand, our treatment can treat the disc injury itself, thus suppressing inflammation by reducing the fresh leakage of nucleus pulposus components.
Q

My back pain may temporarily worsen after treatment. How long will it last?

A

The reason for the lower back pain is that spinal ligaments that have been compressed are stretched; the lower back pain lasts for about two weeks and then subsides.
Q

What level of exercise can I perform after treatment?

A

General recreational exercise and sports can be done without any problem. For professional athletes, the possibility of new disc damage is high and should be discussed in consultation with a doctor.
Q

Please tell me about what I should be cautious about after treatment.

A

During the first few days after treatment, the patient should rest and avoid prolonged sitting, heavy lifting, twisting, bending, or strenuous exercise. Patients should be able to perform routine tasks one week after treatment and should be able to perform light exercise by the second week. Weight training is allowed after 3 months.
Q

Is the treatment covered by the Japanese national health insurance?

A

No, it is not covered by the national insurance. If you have life insurance, you may be eligible. Please feel free to consult our staff regarding this matter.
Q

How long must I wait to be able to walk after treatment?

A

It is an outpatient/day treatment, so you can walk about an hour after the surgery.
Q

How many doctor visits do I need to make before treatment?

A

We require an MRI to be taken within three months for remote diagnosis, either with our affiliated clinic or from data sent by you. You can receive treatment on the same day after phyiscal diagnosis. You may also request only the diagnosis and come back only for the treatment at a later date.
Q

Can I fly immediately after the treatment?

A

If there are no problems after the treatment, you may fly. If there is any pain after the treatment, flying may not be recommended depending on the doctor's evaluation.