Column

Treatment Progress No.38 A patient who's strained back improved
Patient
Female in her 40s
Treated in January 2023. About 4 months have passed since the treatment
Symptoms and treatment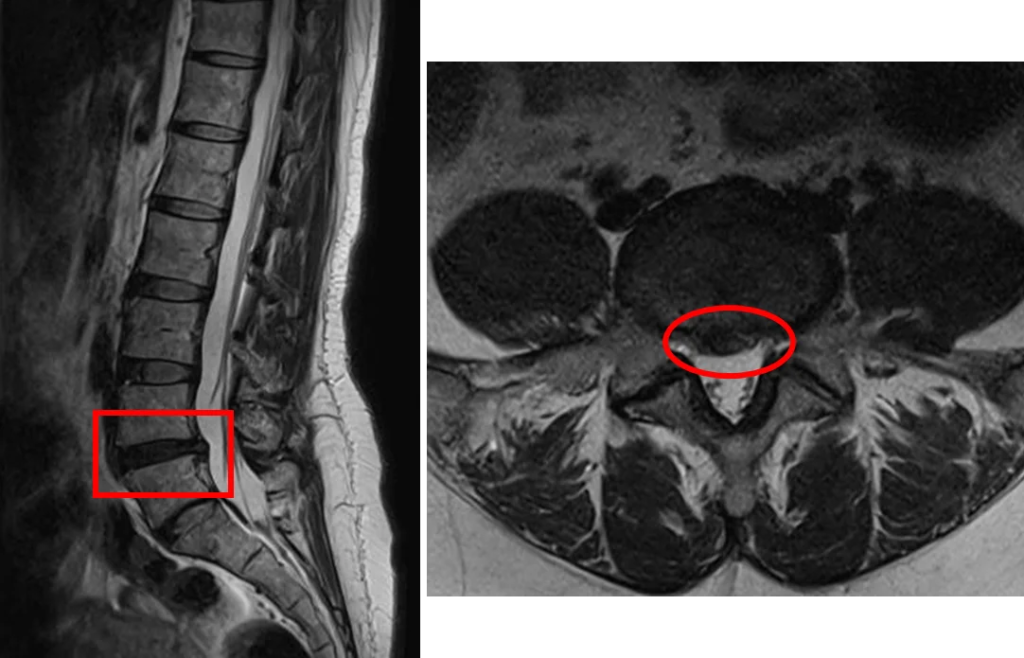 The patient had a hernia in the area indicated by the red rectangle (disc L4/5).
Evolution prior to treatment
The patient had suffered from a strained back repeatedly since her 20s.
When she went to rehabilitation or used a corset, she was able to get back to normal.
In November 2022, even though her symptoms were lighter than before, they were not improving, so she sought treatment at our clinic.
The treatment at our clinic
The patient was treated with the Cellgel method on 2 intervertebral discs (L3/4 and 4/5).
Evolution consecutive to treatment
The following is a chart in which the patient herself rated the pain value of each area on a scale of 0 to 10.
No pain at all is rated as 0, and the maximum possible pain is rated as 10.
| | Lower back | Lower limbs | Numbness | Buttocks |
| --- | --- | --- | --- | --- |
| Before treatment | 5 | 5 | 0 | 4 |
| One week after treatment | 2 | 2 | 0 | 1 |
| 1 month after treatment | 2 | 2 | 0 | 0 |
| 3 months after treatment | 1 | 1 | 0 | 0 |
The following comments were obtained from the patient when contacted for follow-up.
After one week, her overall pain started to subside.
After 1 month, she felt better. Instead of feeling pain in her lower back, she started feeling something was a little off. Her legs too didn't feel pain, but felt heavy instead.
After 3 months, when she was tired or sat down for a long time, she experienced a little pain. She was aware of it for 1 or 2 days, but it did not get any worse.
This is a patient who felt the effect of the treatment in a short amount of time.
Her pain was not fully eliminated, but the amount of pain was reduced and instead she felt a little off instead.
Over time, we think that this feeling of something being off will gradually fade away.
※ It takes about 3 weeks to 3 months to see the effect of the treatment.
※ The effect of the treatment varies from person to person. Please be aware that there is a possibility that the same effect may not be obtained.
Our clinic's treatment method
Additional information about the Cellgel method we have introduced in this column.
Cost of the Cellgel method: 1,420,000 yen per area (including tax) to 1,860,000 yen per 5 areas (including tax)
Risks and side effects of the Cellgel method: Transient pain may occur after treatment. Nerve damage is not a zero possibility due to the very nature of the treatment, but there have been no reports of damage so far in either report cases or publications. There is a very small possibility of allergic reactions to local anesthetics. Symptoms may temporarily worsen during the first week or two after treatment. This is believed to be due to the decompression effect of the implant, which retracts the surrounding tissues. In addition, if the disc is almost completely collapsed, treatment may be difficult. The doctor hold a consultation with you during your visit to the clinic to determine the best treatment option for your condition.
For more detailed information, please refer to the following links: