Column

Free MRI Consultation – Case #3 | International Lumbago Clinic Tokyo Blog
Patient
Female in her 50s
Presenting Symptoms
The patient has had dull low back pain for 5 years, which worsened this year (around May 2022).
Symptoms are compounded when she bends forward or sleeps on her left side.
On a scale of 1 to 10 (1 being the least and 10 being the greatest), the pain is 5 in the lower back, hips, and lower extremities, and numbness is 4.
Walking is not a problem, but crouching and lifting heavy objects are very difficult. She also has difficulty turning over, standing up, and even washing her face.
MRI Imaging & Diagnostic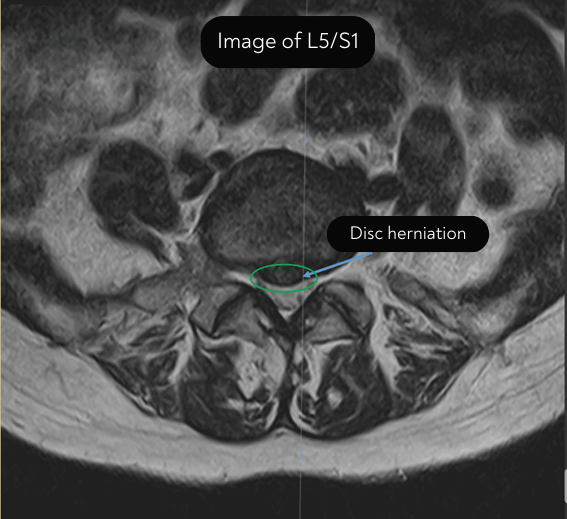 Disc herniation observed at L5/S1. It can be clearly seen that the disc has protruded toward the spinal cord.
The discs at L4/5 and L5/S1 are darker in color than the other discs, which is thought to indicate disc degeneration.
Since the free MRI diagnosis is just based on the findings of the medical questionnaire and imaging diagnosis, actual consultation is the only way to find the best solution to treat the symptoms.
Recommended Treatment
L5/S1 is a typical herniated disc and a good indication for the Cellgel procedure. Disc degeneration is observed at L4/5 and there is a high possibility that a herniated disc will occur in the future. We believe that the Cellgel procedure is effective in preventing such diseases. We will discuss with the patient and decide on the most appropriate treatment.
Word of Caution
It is no longer the norm, but in this day and age, doctors do not get to make a unilateral decision on the course of treatment. The final decision on the course of treatment is left to the patients themselves (and sometimes their families as well). Even nowadays, the patients still often say things such as "I will do as the doctor says!" or "I don't have any say in the matter!"
However, no matter how many times they say that, each patient has his or her own treatment plan that suits him/her best, and we would like to discuss and decide on the treatment together with the patient.
Treatments at our Clinic
Please refer to the following links for more information on the Cellgel method and ozone therapy.
Written by Tadaaki Minowa, Clinic Director