Column

Overseas Training Report – Italy
In August, we arrived at the Bellaria National Hospital in Bologna, Italy for training in PODD and other ozone treatments. Dr. Cirillo was the instructor, and he was very kind to us who had come all the way from Japan.
This time, we attended four PODD procedures as the main part of the training.
PODD is a treatment in which ozone is injected into the intervertebral disc. Doing this reduces the inflammation that causes pain and dehydrates the disc, causing the protruding disc to retract.
PODD has also the added benefit that ozone is injected in the vicinity of the disc as the needle is withdrawn from it, thus further relieving back pain.
The procedure per se was very short and was performed while we were listening to the different lectures concerning the correct angles of the needle, the direction of the X-ray apparatus, and the patient's posture, and it felt like the strain put on the patient was quite minimal.
Then, we stopped at the hospital cafeteria for lunch, and although the atmosphere was similar overall to that of a Japanese hospital cafeteria, the menu was Italian. I was especially impressed by the delicious gnocchi (potato and flour dumplings). Sadly, the picture cannot convey how delicious the food was!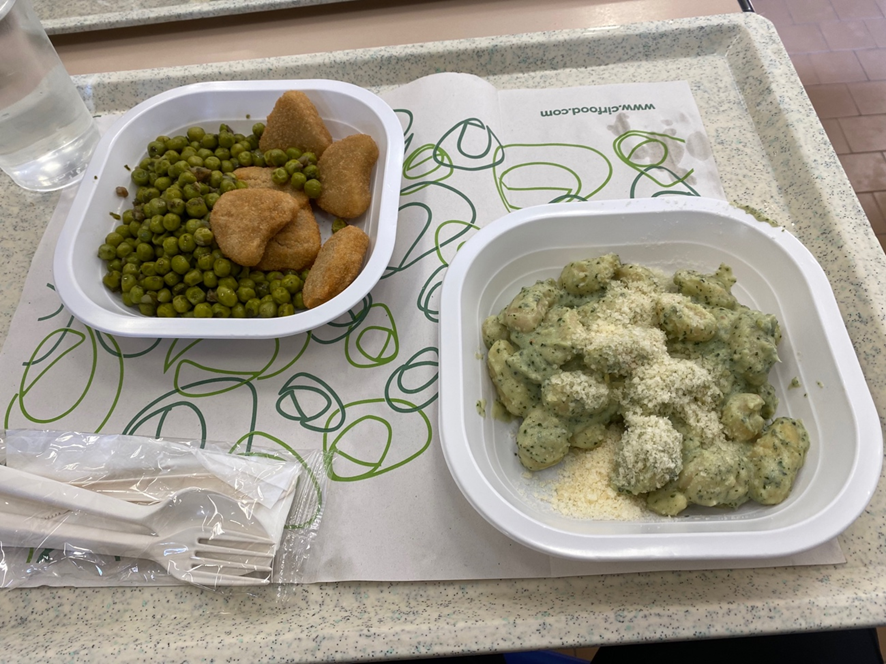 After lunch break, we took part in about 8 more procedures consisting of ozone injections into muscles, and I think that it is a very simple intervention that could be quickly replicated at our hospital.
One of its biggest advantages is that no complication has ever been reported with ozone treatments in Italy since the beginning till now. Ozone is a gas that is for example used to prevent infections – the most common complication in surgery – and is also used as a measure against COVID 19. Not having to worry about infections is clearly a plus with ozone (although adequate measures must of course still be taken).
We sincerely hope that ozone will be beneficial to patients in Japan too now.
Written by Tadaaki Minowa, Clinic Director