Column

Recurrence of Herniated Discs: on the necessity of revision surgery and the criteria for it.
April 11, 2023
Recurrence of herniated discs: on the necessity of re-treating and of a second surgery.
Even if a lumbar disc herniation is surgically removed, the risk of recurrence may remain.
If the herniation recurs within a few months after surgery, it is possible that the herniated disc was not completely removed.
In most cases, however, the cause of recurrence is advanced disc degeneration.
A herniated disc is caused by disc degeneration that has progressed to the point where the annulus fibrosus of the disc develops a crack and the disc gradually loses its original shape.
Spinal surgery removes only the herniated portion of the disc, but because the disc is not actually repaired, it gradually degenerates, and the herniation recurs post-surgery.
Treatment of recurrent herniated discs
Physical Therapy
Recurrent lumbar disc herniation does not always require a second surgery but may be treated with conservative treatments such as physical therapy, which usually requires multiple visits.
Revision surgery
It is not uncommon for patients with severe pain or other symptoms to undergo surgery again.
In the case of a second surgery, the hernia can generally be removed in a similar way, but with more difficulty than the initial surgery. As a second surgery requires advanced techniques and precision equipment, it is more complicated than a first surgery, and may sometimes take twice as long.
If the postoperative disc degeneration is quite severe and also involves lumbar slippage, spinal instability, or scoliosis, or if the disc itself has been significantly degraded due to a large amount of disc material removed in the previous surgery, merely excising the recurrent herniation may not be fully effective. In this instance, it may be necessary to perform a discectomy on the recurrent herniation and fix the intervertebral body.
Performing an X-ray of the lower back after fusion surgery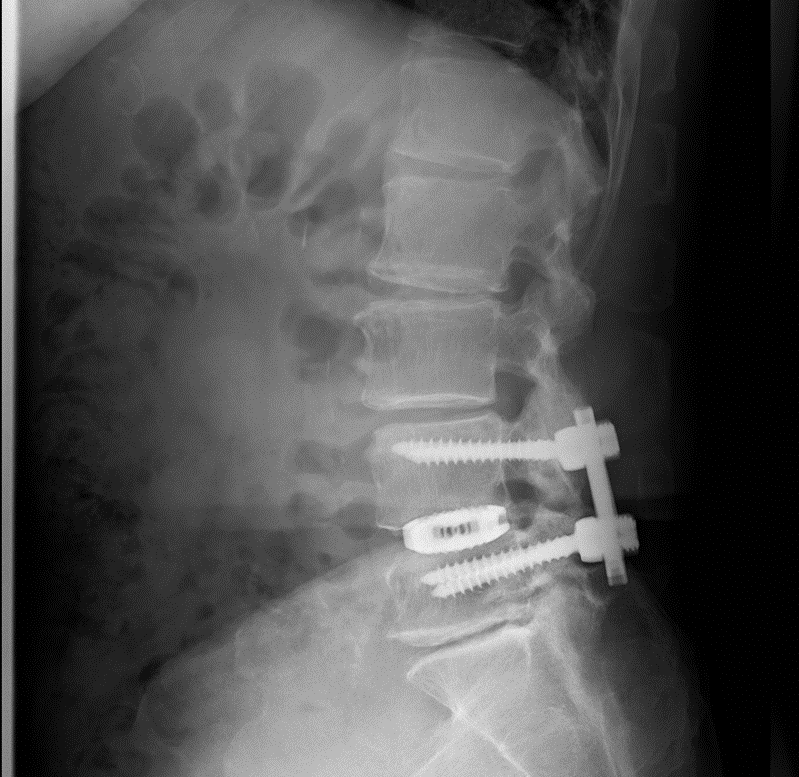 Both physical therapy, which requires a long period of time, and revision surgery can eliminate pain and other symptoms, but they cannot remove the underlying cause of the hernia recurrence, which is the damage to the intervertebral disc.
Treatment at our clinic
We offer minimally invasive, day treatment for a variety of spinal conditions, including herniated discs and spinal canal stenosis.
The Cellgel procedure, which repairs and preserves the intervertebral discs and prevents herniation from recurring, can only be performed at our clinic for the whole of Japan.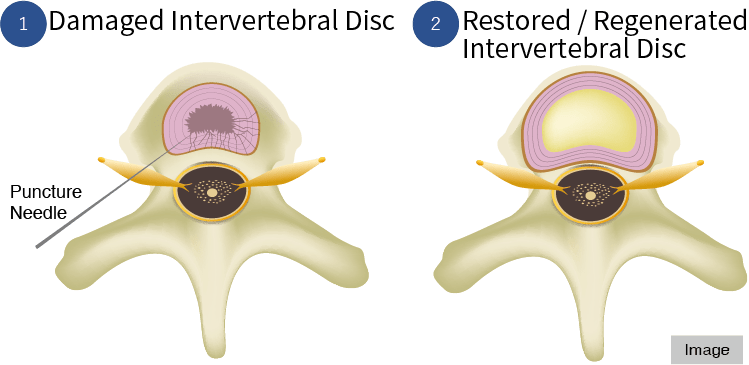 If you have had surgery to repair a herniated disc but are still feeling pain, or if you would like to avoid another surgery, do not hesitate to come to our clinic for a consultation.
Reserve for a consultation at our clinic now.