Column

Causes and Symptoms of Sciatic Nerve Pain, Treatment Methods, and Lifestyle Habits to Be Wary of
Sciatica is a symptom of compression or irritation of the thickest nerve in the human body, which extends from the lower back all the way to the legs.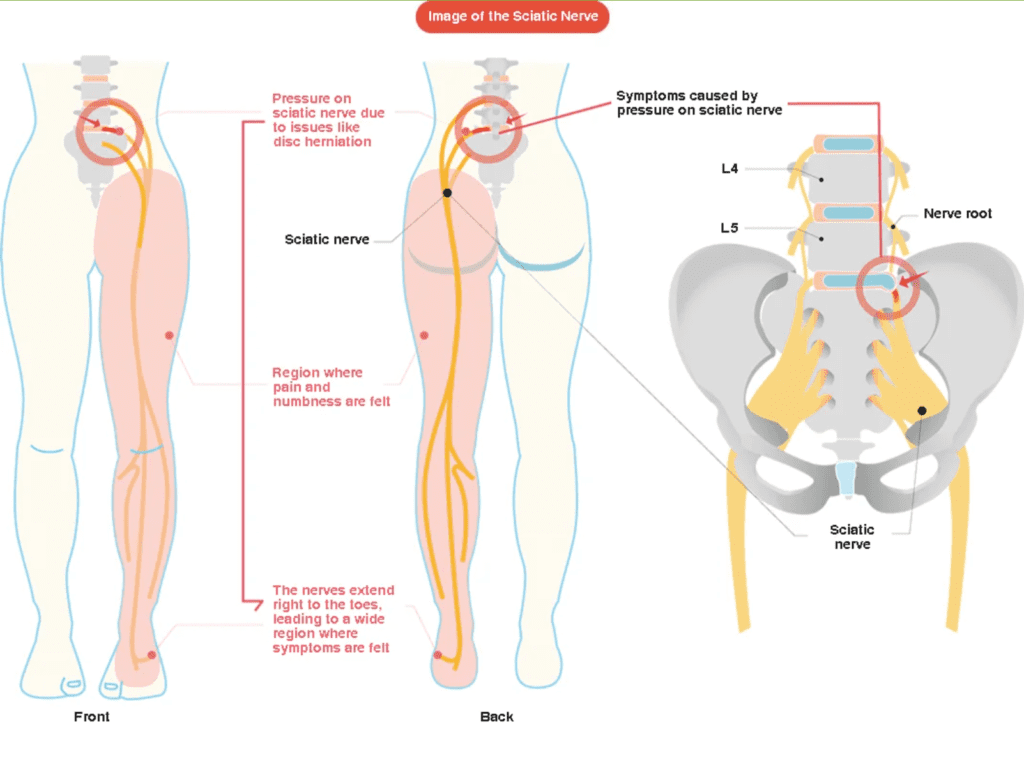 The causes of sciatica
Many conditions can cause irritation of the sciatic nerve, including lumbar disc herniation, lumbar spinal stenosis, intervertebral arthritis, piriformis syndrome, and sacroiliac joint disorders. The most common of these are spinal canal stenosis and herniated discs.
Sciatica caused by spinal stenosis
Lumbar spinal canal stenosis is a common disease in middle-aged and older people over the age of 50, but some people with narrow spinal canals may experience symptoms even in their 30s and 40s.
As the spinal canal narrows with age, nerve roots and the cauda equina nerve are compressed, resulting in sciatica.
Sciatica caused by disc herniation
Lumbar disc herniation is most common in people in their 20s, followed by those in their 30s and 40s, and then younger people in their teens.
The disc gradually loses its volume and protrudes, putting pressure on the lumbar nerves and resulting in sciatica.
Symptoms of Sciatica
Symptoms of sciatica often appear in the buttocks and thighs from the lower back down, as well as sharp pain like an electric bolt, or numbness in the calves and toes, tension in the calves, a cold or burning sensation, and heavy legs.
As the condition worsens, chronic pain and numbness may appear, and in severe cases, urinary and stool difficulties may occur, especially for middle-aged and elderly people. The pain may make it difficult to walk or even rise from a chair.
Characteristics of Sciatica Pain
As mentioned above, sciatica is often caused by spinal stenosis or herniated disc, but the pain involved for each condition is different.
Sciatica caused by spinal stenosis
When the body is bent in a backward position, the spinal canal narrows even further and compresses the nerves and other parts of the body, causing the pain to increase or become more intense after the following movements:
・Picking up objects in an elevated position.
・Twisting at the waist
・Stretching one's back
Conversely, when bending forward, the spinal canal widens, so activities such as riding a bicycle or putting on socks can be done with relative ease.
Sciatica caused by disc herniation
Conversely, in the case of a herniated disc, the pain is more likely to occur and become stronger when bending forward. Sitting on your knees, sitting on your side, tasks performed in a squatting position, and a hunched posture can also trigger pain.
Lifestyle Habits to Be Wary of
Sciatica is more likely to occur in the case of long hours at a desk, lack of exercise, and poor posture.
Although factors such as aging cannot be avoided, sciatica can be prevented to some extent by being mindful of one's lifestyle habits.
In particular, you should pay attention to the following:
・Spending a lot of time with your buttocks bent backward, as when sitting on a couch.
・Lowering the temperature of the room with air-conditioning too much, which tends to impair blood flow.
・Bending one's hips forward, without using one's legs when lifting heavy objects or stooping forward.
・Excessive strength training to counterbalance previous lack of exercise.
All these actions can aggravate the existing symptoms, so caution is advised.
First, it is important to correct your posture to avoid putting stress on the lower back, pay attention to your posture when performing various movements, eat a nutritionally balanced diet regularly, and perform adequate strength training.
Diagnosis of Sciatica
To treat sciatica, it is first necessary to scrutinize the cause of the condition. To do that, it is essential to perform an MRI or other examination at a medical institution.
Unfortunately, there is no way to determine the true cause of sciatica at an osteopathic clinic or through massages.
If the pain of sciatica persists for a long time, the symptoms may worsen, so it is recommended to consult a doctor in a timely manner.
Our Treatment to Repair Intervertebral Discs – The Cellgel Method
Our clinic offers the Cellgel method for herniated discs and spinal canal stenosis with sciatica. It is one of the most advanced treatment methods that have been thoroughly researched and developed in recent years and is a new treatment method with solid evidence to back it up.
Herniated discs and spinal canal stenosis are the result of a disc cracking and its central component protruding, causing a narrowing of the spinal canal. If the disc crack is not repaired, it can herniate again or cause a recurrence in the narrowing of the spinal canal.
The Cellgel procedure is a curative treatment because it can "repair the discs", which is not possible with other treatment methods. It is characterized by the fact that the volume of the disc is not reduced, and the drug remains in the disc as a gel-like implant after treatment, thus preserving the disc.
The stay at the clinic lasts only half a day, and the patient can walk home on the same day of the treatment.
If you suffer from sciatica or have been diagnosed with a herniated disc or spinal stenosis before, please consider taking a consultation at our clinic.
Related Articles
The Cost of a Sciatica Surgery: Full Disclosure of the Market Prices For Each Surgical Procedure, and Whether it is covered by Insurance
How to choose a hospital for a herniated disc: what key points should you keep in mind when choosing your doctor?
Advantages and disadvantages of herniated disc surgery. Avoid the risks and go into treatment with peace of mind
The Different Surgical Procedures for Spinal Stenosis: The Advantages and Disadvantages of Each One at a Glance